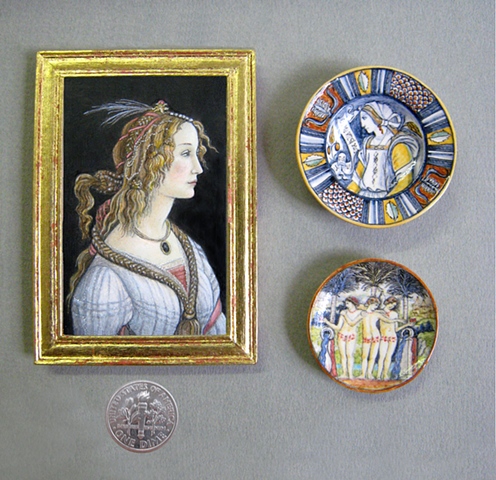 Miniatures by
Lee-Ann Chellis Wessel
IGMA Fellow since 1989
For more than 40 years it has been my passion to replicate beautiful pieces of pottery and porcelain in miniature scales for discriminating collectors. I enjoy studying museum collections and antiques references to gather information as well as inspiration to create my fantasy collections. Each piece is a replica of a specific example of antique pottery or porcelain in 1/12, 1/6, or 1/4 scale .
Due to having the good fortune to travel in Italy, visit museums there, and study egg tempera painting along with my husband's "Workshops in Italy", I have added miniature tempera painting to my repertoire reproducing works of "The Old Masters" on tiny wooden panels.
.
My works are produced very slowly and in extremely limited editions ( some are one or two of a kind ) Since my work covers a broad range of periods and styles I tend to get behind in production and pieces must be made to order.
Please contact me first to confirm availability of pieces you are interested in purchasing. I am happy to hear of your interests. Also check "News" on this site for listing of any shows where my work can be seen.